During Christmas and New year my skin really wasn't looking it's best, it was getting really oily whilst still having dry patches, i had more blemishes than usual and it just generally looked really dull. Skin care is so important to me, i really don't enjoy applying my makeup or trying new products whilst my skin isn't clear. I'm still unsure why it got like this as i hadn't changed my skin care routine but I'm going to put it down to not enough sleep, 'over indulging' on the sweeties and chocolate over Christmas and then trying to drastically change my diet over new year. One of the skin care brands i have heard SO much about but never purchased from is Liz Earle, i know many beauty bloggers out there swear by her skin care but as i wasn't having problems with my usual skin routine until the last few months, i had never seen the need to change. However after the new year i was really getting sick of how bad my skin was looking so i decided to try something completely new...and welcomed Liz Earle's Famous Cleanse and Polish into my new routine. To find out how much difference this product was to have on my skin i decided for a month i would only use this product and none of my usual cleansers, and exfoliators, whilst trying to continue with a healthy diet.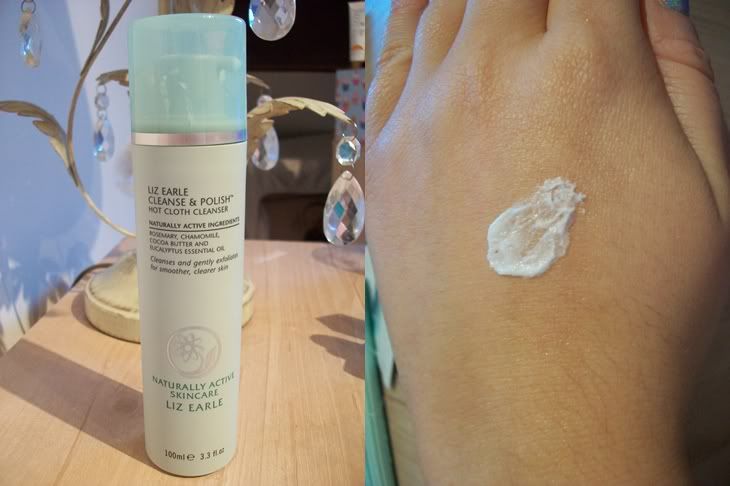 I purchased the Cleanse and Polish 100ml from the UK website (click
here
to visit) for £13.50, which i think is pretty reasonable and affordable and as i have now seen the results ..think is pretty incredible! When the package arrived a few days later i was SO happy to see i had also received a little freebie...the 'Liz Earle Instant Boost Skin Tonic' 50ml bottle. The Cleanse and Polish comes with two muslin cloths to remove the product. I had read before that you should only use the muslin cloths for 2 days before properly washing them. These are available from the UK site for £3.55 for a pack of two, which again is very reasonably priced. The products also came in a Liz Earle wash bag along with two booklets, '15 Reasons to love the Cleanse & Polish' and the 'Autumn/Winter 2010 Product range.'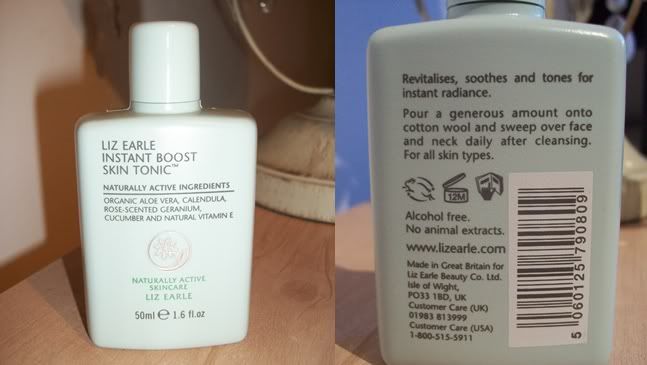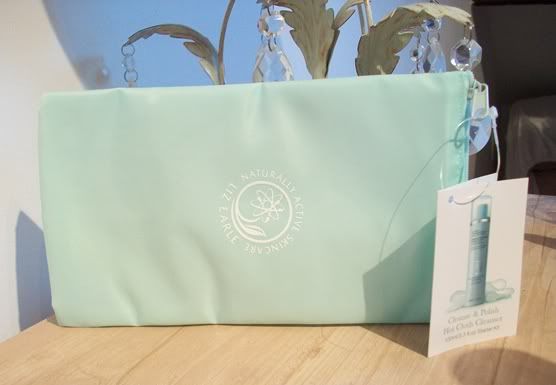 The Cleanse & Polish has been voted the NO.1 Cleanser by the worlds top beauty experts as well as receiving awards from Red Magazine, Natural Health Magazine and The Beauty Bible. The company claims the product 'removes all traces of face and eye makeup' and 'dislodges dead skin cells to help reveal clean, soft and radiant skin.' This product is very different from my other cleansers, as it is a cream based product. To use this product you apply 1-2 pumps onto the back of your hand, and then apply evenly to the face and neck, you then rub the cream in till it disappears. I usually try to leave this on for 2-3 minutes so that it really sinks into my skin. You then rinse the muslin cloth in warm water and remove the cream using a different section of the cloth for your forehead, nose, cheeks, chin and neck. To finish splash your face with cold water.
The Results
: After using this product my skin feels incredibly soft and hydrated, several times i have removed my makeup with a face wipe then used the cleanser and it is amazing how much makeup still comes off on the muslin cloth that didn't show up using the wipes. I really feel like this is the only product i have tried that can remove every single trace of make-up and dirt off my skin. After Ive cleansed I have been using the Instant Boost Skin Tonic, which claims to 'refresh, sooth and brighten the skin,' which is pretty much exactly what I have been needing a product to do....and that it does! My skin has been looking noticeably brighter and i definitely feel that the red pigments i have are less noticeable after i have used this product.
I am forever reading how incredible the Liz Earle skin products are and how people 'dont feel the need to try another cleanser again,' and well I'm not ashamed to admit I'm will now be number 98997 to also be using that exact same quote. I am in LOVE with both of these products, my skin is a lot clearer than it was a month ago, and i haven't had any new blemishes. I don't feel like my skin looks 'tired and dull' anymore and I have actually had a few people at work ask if i have changed my makeup or skincare. I would recommend this product to anyone who is having problems with blemishes, or tired and dull looking skin!
Have you tried the Cleanse & Polish or any other of the Liz Earle products? Let me know in the comments below!
x