As it's now summer i have changed my makeup routine up a little...although the sun is still nowhere to be seen it's always nice to switch up your daily essentials. One of the things i like to change for summer is my blush and recently i have been staying clear of any pink tones and opting for peachy warm tones instead. I have been tanning a lot more using Xentan dark lotion and these tones are definitely suiting me a lot more at the moment.
Nars Luster £20.50
Luster is my first ever nars blush and has become my favourite blush ever! It is an apricot peach with gold undertones, again like style i wouldn't need to wear a highlighter over this as the gold shimmer does the same job. This is such a gorgeous colour for summer, i am an NW25-30 but i think this blush would suit most skin tones.
Mac Style Blush £17
This one was abit of an impulse buy, i was in the mac shop picking up a lipstick and noticed the girl serving me was wearing the most gorgeous peachy shimmery blush,so i asked her to show me which one it was...and surprise surprise it ended up in my basket. Style is a gorgeous corally peach with a very subtle gold shimmery undertones. This blush acts as a bit of a 2-1 as you definitely don't need to use a highlighter over this. The gold shimmer gives such a lovely sheen to the cheeks and isn't in any way glittery.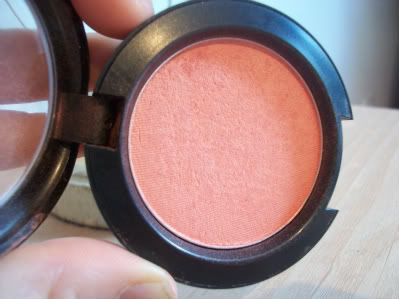 Mac Coppertone £17
I bought Coppertone after i had just ran out of my favourite ever mac blush - Happy together (Discontinued) and was looking for something of a similar shade. Coppertone is a matte brown with copper undertones and can be used as a blush or for contouring. I prefer to use this blush in the evening and when i am more tanned as it is quite dark on my skin. This blush is perfect if you are going for a more bronzed look and want to still look quite natural as it is completely matte.
Nars Multiple Tint Turks & Caicos £27
This multiple tint is perfect if you want that 'dewy skin'. The colour looks a little scary in the tube but on the skin it gives a really natural golden sheen. I swipe this across my cheeks and then use my fingers to blend, it literally takes no effort at all...would be perfect to take on holiday.
What are your favourite summer blushes?