Unfortunately this weekend i have been stuck in side due to my skin having a very bad reaction and breaking out a lot worse than ever before. I'm not too sure if it's a product I'm using that my skin doesn't agree with or something I've ate but i didn't want to irritate my skin anymore, so I have stayed product free all weekend.
When my skin is bad it completely knocks my confidence, and this weekend i have wished for nothing more than gorgeous clear glowing skin, and this got me thinking of the idea for this post!
There are a certain few celebrities i always like to look to for makeup inspiration; Kim Kardashian, Jennifer Lopez, Cheryl Cole, Eva Longoria, and Victoria Beckham. While these gorgeous girls are all im sure very naturally gorgeous they are rarely ever seen without a full face of makeup, i mean the whole lot..smokey eyes,false lashes,glowing complexion,well highlighted cheekbones and a good pumped up pout!
And while i adore this look and often find my self re-creating these looks for nights out, this weekend i have found my self looking at stars who go for much more of a barely there natural look.
Now I'm not saying these celebrities are completely bare faced, they are almost certain to still be wearing a light coverage foundation and powder to even out their skin tone but you can still see their own pigmentation/skin tone/freckles etc through their makeup, there's a major difference between these girls and the celebrities above i have been adoring for a while now.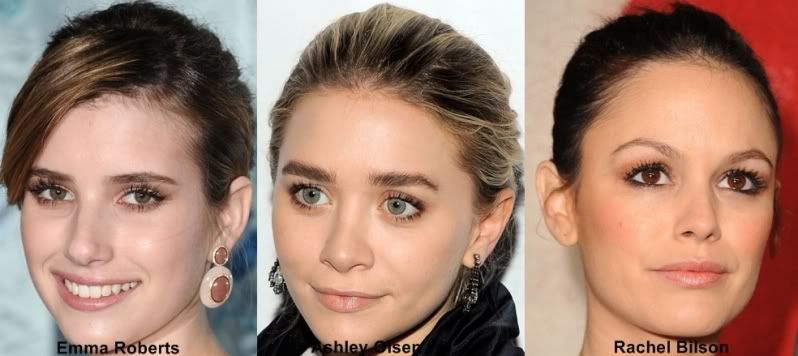 Admittedly if my skin was as good as the likes of Emma Watson's I'd like to think i would often venture out with only a flick of mascara and a touch of blusher but as my skin wasn't at it's best during the holidays and new year i was finding myself wearing more and more make-up.
I wanted to find out what look most of you girlie's prefer! Do you like to keep it Au natural during the day and glam up for night...Are you rarely ever seen without full coverage makeup or like some of these fresh faced beauties do you always keep it natural and simple.