If somebody told me they were to make my dream hair product and i was to choose 5 qualities this product needed to have these without a doubt would be..
Control the frizz
Add shine and make hair appear glossier
Nourish and treat
To detangle and make the hair softer
Stop static/fly away hair
Little did i know there was already a product out there that did all of this..and more!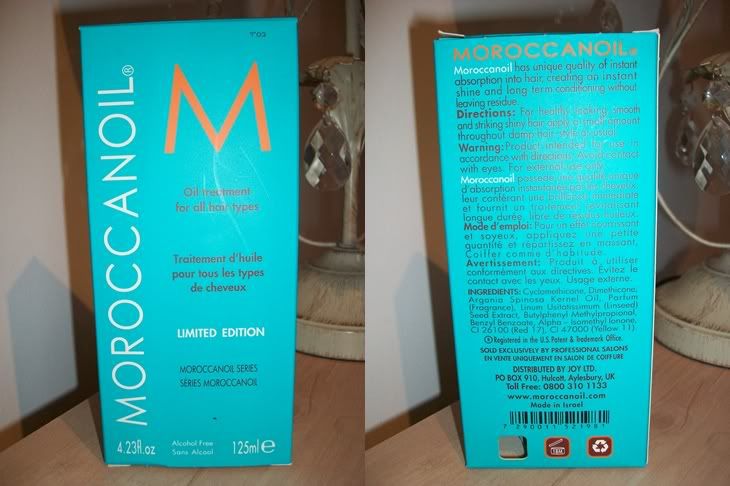 I have been reading about Moroccan Oil for a while now, mainly bloggers and magazine reviews and i have always been keen on trying it as i have never heard one bad review, only reports of how amazing this product is. I went onto the companies website and read the actual product description ' Moroccan Oil is a ultra light formula which is absorbed by hair instantly resulting in a natural silky finish and brilliant shine...this product revives hydrates and most importantly detangles, hair, wigs and hair extensions,' ...after this...i was sold!
For anyone that doesn't know i have been wearing hair extensions for quite a few years now, and currently have them sewn in which means it is 10x more important for me to treat my hair carefully as hair extensions get damaged a lot quicker from styling and environmental damage than normal hair, therefore I'm constantly on the look out for new treatments.
To apply this product you only need to use a pea size amount, which hopefully means this 125ml bottle is going to last quite a long time. When hair is wet you rub the oil into your hands then run the product through your hair, i like to use this product from just below my roots, leave for a minutes or so then brush your hair to ensure the product covers evenly, dry and style hair as normal.
The Results
: I am AMAZED by the results of Moroccan Oil, it has made such a huge difference to how my hair dries. The most obvious difference was how much softer my hair is, with it being quite long it often gets knotted quite easily but since using the oil my hair has been so so soft and rarely ever knots. De-Frizzing is one of the most important things i look for in a hair product as i have VERY curly hair, and no not a nice big bouncy curl , those really annoying tight frizzy curls. Now when i use this product and blow-dry my hair i would say it is 50% less frizzy than before and because of this it is so much easier for me to control the curl when blow-drying and straightening. My hair is now noticeably shinier and generally looks healthy and well nourished, i have never found a hair product to treat extensions as well as this.
Now the only downside is this product is a taddd pricey, RRP £38 for 125ml, however i cannot explain how much this is worth departing with your hard earned cash for, this product has literally changed my hair in so many ways.
I ordered mine from
http://www.lookfanstic.com/
as they are currently selling the 125ml for £30.45 and offering free UK shipping and i was very pleasantly surprised as my order came within 2 days!
Has anyone tried the Morroccan oil treatment or any other products from this company? I am dying to try the Restorative hair mask now!