The newest hair revelation to come from John Frieda.. a semi permanent styling spray '3 day straight.' The product claims to 'Transform curly, frizzy hair into a straight,smooth style that lasts up to 3 days,' every girls dream right?
With my hair being naturally curly i have to blow-dry and straighten it everyday and with that it still goes back into a wave after a few hours, so to achieve my wish for long sleek locks i I figured this one was well worth a try. There has been quite a lot of hype around this product but after trying nearly every anti-frizz/curl product out there i was still questionable as to whether this one really did work.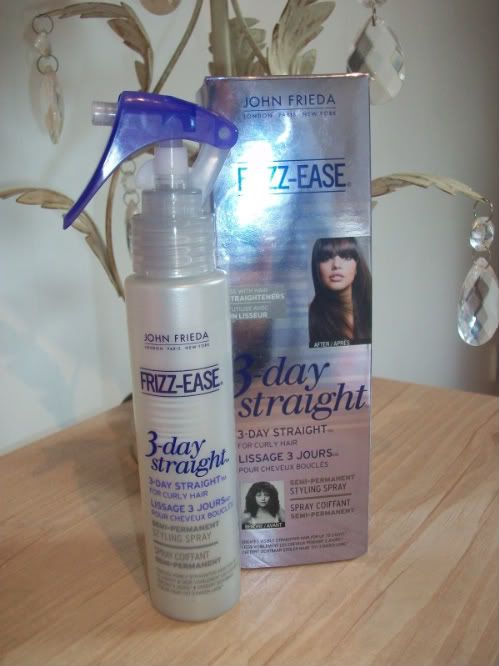 The product is to be used on wet or damp hair using 7-15 sprays, after spraying i brushed through my hair to ensure the product was spread evenly, then blow dried my hair as usual. At this stage my hair felt completely normal, no difference at all. I then straightened my hair as i normally would putting it into small sections, it isn't until you have used the straighteners you start to notice the results of this product which the brand explains is the 'heat activated formula with keratin protein which wraps each strand to seal in longer lasting straightness.'
After straightening i was blown away with how amazing my hair felt, it was so smooth, just like when you get your hair blown at the hairdressers and you leave wondering how they always get your hair this soft and shiny, well this is the perfect product to re-create that at home. So....did it keep the curls at bay? The answer is YES! Finally a straightening product that does exactly what it claims. On the second day i woke up expecting to have to have to quickly go over my hair with the straighteners but it was still straight and incredibly soft. Normally i would wash my hair on the second night as i like to wash my hair every other day, but i left it this time to give this product the full test. On the third day there was still no wave/curl in sight however my hair as it normally would did feel slightly greasy on the top layers and did needed washing.
My results: Not only would i recommend this product if you use straighteners every time you wash your hair, I would also recommend it if your hair is feeling slightly dry and you need that professional looking shine back. And the best part is it's affordable and accessible at only £6.99 from Boots and Superdrug.