Hi guys, It's been a while since i last posted, I have been extremely busy with work and took a little trip to London to visit my sister! Last week i found out i was moving departments at work from footwear and accessories to girls clothing which is extremely exciting and something new to get stuck into. I am a bit nervous about it but i only have 3 months left at this internship so I'll give it my best!

Since i haven't posted i haven't had chance to mention the Royal Wedding and how extremely gorgeous Kate Middleton looked. After much speculation Kate opted for Sarah Burton for Alexander McQueen. I adored the Victorian style corset under the lace long sleeves and high neck.

After the wedding it was a given that wedding dress designers all over the world were to create their own versions of this dress using the lace detailing but this past week i have noticed celebrities wearing lace for both day and evening wear.
Lace can be a tricky trend to pull off, wear too much and it can look extremely cheap and tacky. I think the trick is to wear little or mix it with another trend. I noticed Vanessa Hudgens wearing a full lace dress this week whilst out getting coffee...now the sound of that screams fashion disaster, but Vanessa matched the lace dress with a loose blazer, an over the shoulder satchel, and messy hair creating an extremely casual 'no thought' look to the outfit.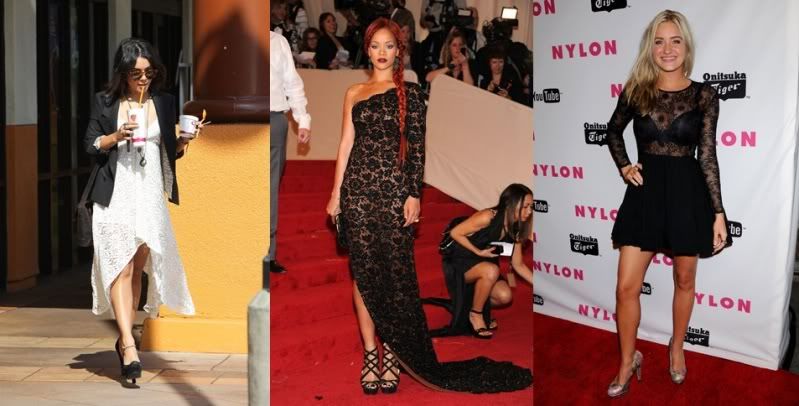 Are you ready to dabble into the latest lace trend?